30 year old Adora Cheung is the CEO and co-founder of Homejoy, a venture-backed San Francisco startup focused on house cleaning. She started coding in high school and holds an undergraduate degree in computer science from Clemson University.
Adora Cheung
CEO & Founder
Homejoy
Adora Cheung started coding in high school and majored in computer science in college. Today, the 30 year old is CEO of Homejoy and established Homejoy Foundation, a non-profit supporting veterans.

What's The Best Part of Working in Tech?
Coding to solve problems and find creative solutions is incredibly rewarding. If I am not focusing on meetings etc., I am coding. I love coding and find it very relaxing.
I work with a great team of dedicated people who believe in the Homejoy mission of making happy homes. People truly make or break a place, and the fact that we are using tech to help others is something I am very proud of.
What's Your Advice to Your Younger Self?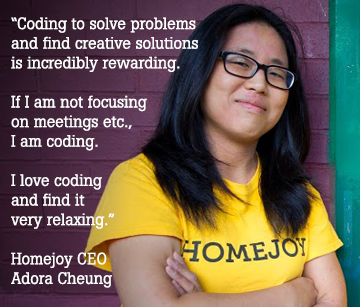 Be social, say hi, ask questions, force yourself to meet people.
Figure out what you want to do and get a job in that. Think about what you are going to learn and if you are going to like it. Enjoy what you are doing and become an expert at it.
In everyone's life there are 'lucky moments' coincidences, even if things appear to be awful, just outlast other people, it will increase your probability of good things happening.
* * *
If you liked this post, check out 12 Female CTOs to Follow on Twitter!