Jackie Anderson is a friendly admissions counselor at Hackbright. We sat down with her to ask her a few questions about her work life and home life. Here's what she had to say!
What Led You to Hackbright?
I was first introduced to the bootcamp world when I enrolled in a UX Design course at Devmountain. My eyes were opened to how amazing alternative forms of education can be. So many doors are open to us that we just don't know are there. I wanted to help more people realize the opportunities available to them and help them change their future. Hackbright won my heart with its mission and its incredible community of women, gender diverse individuals, and their allies wanting one another to succeed.
What Is Your Favorite Part About Working With Students?
Students come to us when they are at a crossroads in life. Taking the leap of faith to jump into our program is thrilling and intimidating and so many other feelings all at once. I never get tired of hearing each individual's story of what brought them to this point and seeing them achieve things they didn't think were possible.
How Are You Able to Help Students Who Are Thinking About Enrolling?
Students thinking about enrolling need to realize they already have so much that they are bringing to the table. Each previous job or class or life experience has given them soft skills that are already setting them up for success as a future software engineer. I want to help people truly see that with study and practice, they can get technical skills and have a tech career. 
What Would You Tell a Student Who Is Nervous About Going Through the Application Process?
Every member of the Hackbright team is literally your personal cheerleader. We are rooting for you! We're so excited to help you through this process, whatever background, experience, or skill level you're coming in with. 
What Do Potential Students Need to Know Before They Make a Decision on Whether or Not to Enroll?
Know that there are so many resources available to you to help make this decision; take time to check them out and explore the world you're thinking about joining. Come visit campus, see what our classes and staff are like, talk to an alumna and current developer. We want you to have the information you need.
What Are Your Hobbies and Why?
If I could be anywhere right now, it'd be on the back of a boat on Shasta Lake. Wake surfing, swimming, tubing, and drinking too much Coke. Since I only get that one week out of the year, a great day would include a live music concert, a movie, hiking, or planning my next trip. I'll never pass up the opportunity to see a new part of the world.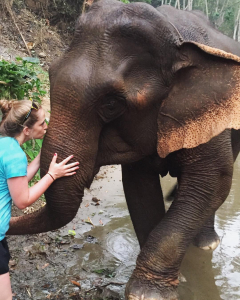 If You Could Be a Muppet, Disney Character, or Super Hero, Who Would You Be and Why?
Let's look at Aladdin's life: free flights to any location worldwide, pet tiger, in-laws with cash, and a pretty strong partner that calls him on his crap when needed. That seems like a decent set-up to me!
What Is One Thing People Are Often Surprised to Learn About You?
I love donating blood and plasma. It's weirdly fun and relaxing, and I'm a succor for free juice. 
If You Could Save One Object from Your Burning Home, What Would it Be and Why?
I was going to say my laptop, but then I realized the Cloud has by back! I have a box of old journals of mine and letters from friends and family. Since those are probably the only truly irreplaceable items, and I really value written words, I'd save them.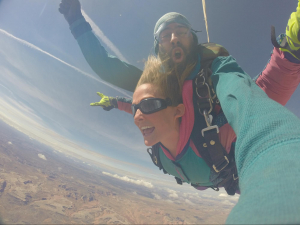 Any Other Advice or Insights You're Dying to Give to Students?
One of the greatest things you'll take from your cohort is the connections and friends that will last a lifetime. Don't miss out on the commodity aspect of your Hackbright education. 🙂